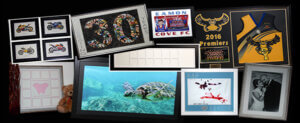 Memory Lane Impressions is proud to officially announce our new business venture… Picture Framing.
It has been long anticipated that this should be the direction to go and now we have made it a reality! Obviously we make frames for our impressions but did you know we can also frame any pictures you have laying around? Why not ask when one of our consultants come past, after all we will have some framing examples available. Match them with the impressions frame to help bring a room together.
We can offer the following services;
Canvas stretching
New frames
Memorabilia framing
Sport clothing
Collectables
Posters
The list goes on……
Glass option include;
Standard glass
Premium glass
Reflection Control
UltraVue – UV control and colour enhancing
Acrylic – 3 & 5 mm
With multiple mat board and glass options available, we are the perfect choice to get your memories captured.
Ask us for a quote via Admin@MemoryLaneImpressions.com.au or call Ken 0424 157 040 or Natasha 0413 885 347 during business hours (9-5 weekdays). All we need are the dimensions and rough description of the item to be framed. We will work out your quote and send it back, its that easy!
Alternatively try using the contact us page.